Chaar Dhaam Pilgrimage - June 2006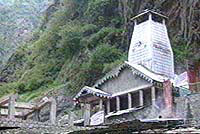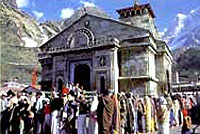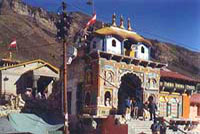 The aim of the pilgrimage was to visit the Chaar Dhaams -
Gangotri, Yamunotri, Kedarnath and Badrinath
- and the places in the surrounding areas.
The group that went on the pilgrimage were (left to right)
1. Sri Gokulmuthu - A software engineer from Bangalore
2. Sri Gopi Krishna - An officer in ILO from Delhi
3. Br. Hari Sharanam - A parivrajak brahmachari from Vrindavan
4. Sri Raghava Rao - An educationalist from Hyderabad
5. Sri Radha Krishna - Anjaiah's friend from Karim Nagar, AP
6. Sri Anjaiah - An officer in an insurance company from Karim Nagar, AP
7. Sri Prasanna Kumar - An MBA student from Hyderabad
Gopiji was the organizer and coordinator of the pilgrimage. He knew
a lot of ashrams in the area and arranged accommodation and prasad
in those places.
The group was very devoted. They chanted Vishnusahasranaamam atleast
once everyday. They did japa and sang bhajans whenever possible.

Here are the day by day notes and links to pictures. Click on the day
for notes. Click on the place for pictures. When viewing the pictures,
you may have to wait for the picture to load. This may take time depending
on the speed of your connection. If you are using slideshow, you can slow
it down to match the speed of your connection.
Day 1 - 04 June 2006 - Delhi
Day 2 - 05 June 2006 - Rishikesh, Uttarkashi
Day 3 - 06 June 2006 - Gangotri
Day 4 - 07 June 2006 - Uttarkashi
Day 5 - 08 June 2006 - Yamunotri
Day 6 - 09 June 2006 - Tehri
Day 7 - 10 June 2006 - Guptakashi, Kedarnath
Day 8 - 11 June 2006 - Kedarnath
Day 9 - 12 June 2006 - Tunganath, Joshimath
Day 10 - 13 June 2006 - Joshimath, Badrinath
Day 11 - 14 June 2006 - Badrinath, Mana
Day 12 - 15 June 2006 - Jakhwadi
Day 13 - 16 June 2006 - Rishikesh
Day 14 - 17 June 2006 - Vashishta Guha, Rishikesh
Day 15 - 18 June 2006 - Musoorie
---
gokulmuthu@yahoo.com
http://www.geocities.com/gokulmuthu